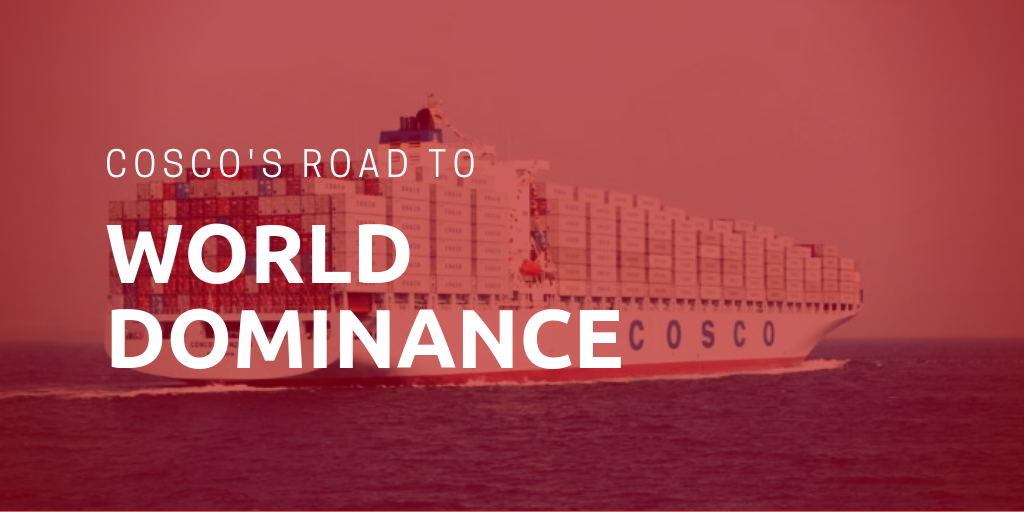 Cosco's plan to leapfrog Maersk as the world's largest shipping line is no secret.
And may industry players be warned—do not take Cosco's ambitions lightly for it's more of an advisory than it is a desire.
In the past two years since the Chinese government merged China Shipping with China Ocean Shipping to form the current Cosco Shipping, the liner has undertaken a series of investments and expansions as evidence that it's pressing on strong with its ambitious agenda.
And it appears to be making good ground. A survey conducted by Splash 24⁄7 late last year showed 7 of 10 respondents believed that Cosco's aim for shipping dominance will be achieved within the next decade.
What has Cosco Shipping done
Cosco, officially known as China Cosco Shipping Corp, is the product of the merger of China's two state-owned firms, Cosco and China Shipping, back in 2016.
At the peak of a prolonged economic downturn and with other mergers and acquisitions going on elsewhere by other carriers to stay alive, the merger was necessary.
And since then, Cosco has shown a lot of ambition.
"As it turns out, Cosco has proven much better at managing and utilizing China Shipping's assets and business than China Shipping ever was."

—Klaus Lysdal, Vice President of Operations, iContainers
China has massive influence in world trade and has long been looking to cement its position as a financial power. Naturally, a Chinese government funded carrier will have a similar ambition.
Their aim is to be number one in the world and this will likely come at the sacrifice of Maersk. The liner is stepping up its challenge to Maersk and its investment in recent years exemplify its urgency.
OOCL acquisition
Cosco's acquisition of OOCL was finalized this year. With the acquisition of the then-eighth-largest shipping line OOCL, Cosco officially overtook CMA CGM as the world's third largest container line, and it now has with 2M partners MSC and Maersk in its sights.
Source: Crucial Perspective
Cosco Shipping making grounds in Europe
Earlier this year, Cosco finalized its takeover of the terminal in Belgium's second-largest port, Zeebrugge. Although this represented its first strategic entry into northwestern Europe, in reality, it marked the latest acquisition the Chinese carrier has undertaken in Europe in recent years.
Chinese shipping and ports companies used to be relative minnows in a world dominated by giants such as A.P. Moller-Maersk and Hutchison Ports.

But in 2016, Beijing created a mammoth national champion by merging China Ocean Shipping and China Shipping Company to form Cosco, a sprawling group that includes the eponymous shipping line, the port operator, and other shipping businesses.
This also forms part of Beijing's plans to connect China to Europe by physical means: sea, rail, road, pipeline.
To highlight China's determination, Chinese companies have bought over stakes in 13 ports in Europe over the past decades. And estimates show that Chinese state firms now reportedly own about 10% of total port capacity in Europe.
Maersk and MSC within range
With Maersk now within Cosco's range, the Danish liner should be wary, especially with new orders on its way.
Cosco's pending 374,534 TEU order is nearly four times the 96,000 TEUs Maersk has on order. Once both orders are delivered, Maersk's fleet will stand at 2.37 million TEUs, just 11% more than Cosco's 2.13 million TEUs (a difference of just 240,000 TEUs).
And while Cosco appears to be doing good on its ambition, there's still the other half of 2M, MSC, to tackle.
And perhaps overtaking MSC won't require that much of an effort. According to Crucial Perspective, once the order books have cleared, Cosco will be just 0.2 million TEUs (or 6% to 7% of its total capacity) away from that sweet second spot.
But larger challenges remain before Cosco can further edge closer to Maersk.
Question of sustainability
Cosco isn't short of options, especially with the solid support it gets from the Chinese government. And there are plenty of investment opportunities for them.
But perhaps the question should be whether they're able to sustain themselves going down this road.
It's one thing to pour efforts into invest heavilyments, and a whole other to make it them profitable. Over the last decade, the industry has seen plenty of carriers increase capacity and then struggle fight to fill it. And given this trend, this is likely to be one of the biggest challenges battle for Cosco.
It is branching out with investments in terminals and railroads and acquiring new sources of revenue, but obstacles lie ahead.
"Other carriers, and not just Maersk and MSC, will be keeping an eye on Cosco. There may also be political roadblocks where governments may begin to refuse to sell to Chinese companies for fear of Chinese dominance.

The ongoing tariff war could also affect their bid for supremacy. They're the biggest carrier in a lane that's currently going into a period of time with a high level of insecurity."

—Klaus Lysdal
Maersk wary with one eye on Cosco Shipping
No doubt Maersk is fully aware of the challenge and will be wary. Even though this isn't the first time they are being challenged, Cosco will be a larger threat than others have previously.
Maersk has reigned top for a long while and although acquisitions have played a very large part in sustaining its place at the top, it hasn't simply just invested its way into where they are today.
Needless to say, Maersk and MSC are certainly not going to give up their spots easily.
"Maersk has traditionally been a force to be reckoned with in the shipping industry. And they are not just going to roll over and give up their dominance.

MSC has worked hard to get to that position and has undergone a huge transformation over the last 10 to 15 years while they have been gaining on Maersk. They will continue to push to catch up with Maersk as well."

—Klaus Lysdal
Steps to pull further ahead
From Maersk's recent plans, it looks like it wants to become more of an integrator.
This is evident from their latest creation of Sealand and the merger with Damco to integrate a forwarder for a more end-to-end supply chain solution. One of their options will likely be to grow their overall portfolio of services to offer more.
And there is always the option of more acquisitions to build on their hold or construct more terminals.
More to come from Cosco Shipping
It's clear that Cosco has been putting in much effort into achieving its aim. Current indications show that Cosco is slowly but surely, inching its way to world dominance.
Alphaliner data showed that Cosco overtook Maersk as the top container shipper for the first time ever in 2017 Q3, in which the Chinese liner managed 5.49 million TEUs as opposed to Maersk's 5.26 million.
Reports do, however, credit this to the Petya cyberattack that temporarily crippled Maersk's operations.
"Cosco's ambition is to be the world's top liner but I don't think they would stop at that. They would push to increase their dominance in the overall market."

—Klaus Lysdal
And Cosco has the advantage of the worlds largest market behind them, which means lots of potential for growth, especially if they continue to build on the infrastructure.
One possible step may be for Cosco to follow Maersk's freight forwarding integration focus. Even though most carriers have a logistics sister company and it's not new for carriers to have a forwarder, depending on the level of integration, it could prove to be a game changer.
Cyber attacks: a threat to take seriously
One very real limitation and threat facing the shipping industry as it is is cyber attacks.
The ransomware attack on Cosco's business operation systems a few months ago and the more severe Petya attack on Maersk last year are great reminders of the weaknesses of their systems to potential exploitations and damages.
Should Cosco be serious about being the world's largest liner, it will need to invest more in its security system. Its ambitious and size will continue to make it an extremely attractive target for cyber attackers. Otherwise, chances are, they will succumb to more attacks.
The same applies to Maersk, who's unlikely to want to go through their experience from Petya again.